Notice
: Undefined index: HTTP_REFERER in
/var/www/stage.karmecholing.org/wp-content/plugins/karme-choling-custom-data/SMARTY/lib/metrics.lib/
on line
29
Coming Home: Karme Choling 50th Anniversary Week
June 23 - 28
REGISTER NOW! Come Home to Karmé Chöling for for our Golden Anniversary celebration!
---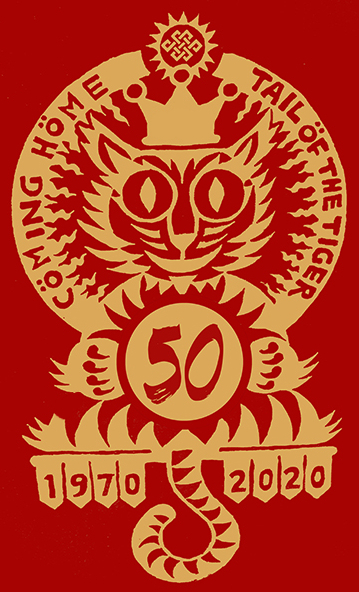 No matter HOW your heart connects to this auspicious place, we're inviting you to follow that heart connection 'home' this year.
2020 will be a year of celebration here at Karmê Chöling as we celebrate 50 years of dharma practice in Vermont!
We'll honor this historic acheivement with a public, 6-day '50th Anniversary Coming Home' festival from June 23rd through the 28th. The festival will feature a variety of arts, music, practice and commemoration events for the whole community.
In addition, this will be Karmê Chöling's chance to honor the village of Barnet and the greater Northeast Kingdom as it's 'home' since 1970.
Originally known as 'Tail of the Tiger', Karmê Chöling was one of the first and remains among the most vibrant dharma communities in the United States, drawing thousands of people to Vermont each year. Over the past five decades, many visitors have become residents of the Northeast Kingdom.
The week will focus on the practices associated with Karmê Chöling from traditional vajrayana to Qigong, Kyudo, Shambhala and Shambhala Arts disciplines.
There will also be plenty of time for food, community, music and exploration of our 750-acre land.
We will honor the lineage of practitioners and staff while looking ahead to our next 50 years!
Schedule
Full Schedule of Events will be posted mid-April and will include:
- Regular meals, cookouts, special teas and desserts.
- Videos and art from our extensive archives, many not available anywhere else!
- Daily maha-sangha practices, including opening and closing chants.
- Times for sadhna practice (including Sadhna of Mahamudra, Shambhala Sadhna and Vajrayana practices)
- Kyudo, Kado, Stroke practice, Shambhala Arts
- Live music
- Sacred Ecology tours
- Events in the local community, including St. Johnsbury, the Barnet town hall and Harvey's Lake.
NOTE: To help make this week accessible to as many people as possible, Financial Assistance is available. Also, children ages 12 and under are welcome to attend for FREE with parent registration. Housing rates and policies still apply.
---
Pricing
Karmê Chöling values its commitment to making programs affordable and available to all who wish to study with us. To support this commitment we provide two program price options.
FULL PRICE: $350
This is the actual price of the program.
DISCOUNT PRICE: $280
We offer this discounted price to those who cannot afford the full price of the program. This price is made possible through the generosity of Karmê Chöling and our donors
Daily Fee: $60
Payment Policies:
Karmê Chöling has updated its payment policies. The new policies apply to all programs that start after January 1, 2019. Please read the payment policies before proceeding with registration.
Financial Aid:
Karmê Chöling offers full-time student discounts, scholarships and other financial aid.
Program Credit:
If using existing program credit to pay for a program, you must pre-register for this program at least two weeks prior to the program start date by calling the front desk (802-633-2384 x-101 or x-103). Program credit may not be used to pay for housing or practice materials and may not be used on or after arrival day.
Share this Program: