Notice
: Undefined index: HTTP_REFERER in
/var/www/stage.karmecholing.org/wp-content/plugins/karme-choling-custom-data/SMARTY/lib/metrics.lib/
on line
29
Scorpion Seal Assembly Year 6
with Acharya Suzann Duquette
May 24 - June 4
[Staffing Application now open]
Participants who have completed the Scorpion Seal Assemblies Year 1-5 are encouraged to gather for Scorpion Seal Assembly Year 6. Modelled after the traditional drupchen - great accumulation - this retreat will focus on intensive group practice of the Werma Sadhana and other practices received. Reading transmissions essential to the Scorpion Seal path will also be given.

Participants are asked to fully accomplish the number of required sessions from Scorpion Seal 5 before attending this assembly. Participants are also asked to please not attend more than one Scorpion Seal Assembly per program season.
ACCOMMODATIONS
Karmê Chöling strives to meet the housing requests of everyone attending Scorpion Seal Assemblies. Due to limited room and dorm space at both the main house and Ashoka Bhavan, priority goes to program staff, and people with physical limitations who have made arrangements well in advance.
If you fit into one of these categories, please email guestservices@karmecholing.org.
PROGRAM STAFFING OPPORTUNITIES
Scorpion Seal Assemblies are self-staffed. At Scorpion Seal Assembly 6, staff positions are open to both first time and repeat participants. If you are interested in Staffing Scorpion Seal 6 (which comes with varying discounts) please submit an application at this link: Scorpion Seal 6 Staffing Application.
TRAVEL INFORMATION
Getting to Karmê Chöling is an adventure. Karmê Chöling recommends flying into Boston, taking a coach to Hanover, NH, then hiring a car to Karmê Chöling. If you have questions about how to accomplish that or if you are traveling by other means or into other hubs, you may find our Transportation page and our Rideshare Board page very helpful. For any additional questions you may have, please call our front desk at (802) 633-2384.
ARRIVAL & DEPARTURE
Please plan to arrive between 3-6pm on May 24, 2020. Dinner is offered at 6:30pm. The program begins at 7:30pm. June 4th is departure day; you are free to leave anytime.
Prerequisites:
Successful completion of practice requirements from SSA5
---
Pricing
Karmê Chöling values its commitment to making programs affordable and available to all who wish to study with us. To support this commitment we provide two program price options.
FULL PRICE: $1860
This is the actual price of the program.
DISCOUNT PRICE: $1380
We offer this discounted price to those who cannot afford the full price of the program. This price is made possible through the generosity of Karmê Chöling and our donors
Payment Policies:
Karmê Chöling has updated its payment policies. The new policies apply to all programs that start after January 1, 2019. Please read the payment policies before proceeding with registration.
Financial Aid:
Karmê Chöling offers full-time student discounts, scholarships and other financial aid.
Program Credit:
If using existing program credit to pay for a program, you must pre-register for this program at least two weeks prior to the program start date by calling the front desk (802-633-2384 x-101 or x-103). Program credit may not be used to pay for housing or practice materials and may not be used on or after arrival day.
Online registration is not currently open.
---
Teachers
About Acharya Suzann Duquette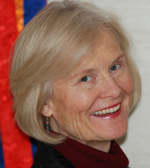 Suzann Duquette began her lifetime exploration of Mudra in 1974 as part of the Berkeley Mudra Space Awareness Group with Dr. Craig Warren Smith, her main Mudra teacher. The Acharya sees the power of physical awareness and embodiment as essential to awakening, and Mudra as a profound method for tasting direct experience and embodiment, and putting the dharma into effective action in all aspects of our lives. Among many Mudra gatherings, Suzann has co-taught two landmark Mudra retreats - the 2004 Dathün with Mudra with Craig Smith and the 2019 Mudra Summit, both held at Karmê Chöling. Suzann is one of 40 acharyas (senior teachers) in the lineage of Chögyam Trungpa Rinpoche and Sakyong Mipham Rinpoche. Former co-director of Karmê Chöling, she is currently the center's Resident Acharya. Suzann also teaches Shambhala retreats and Daoist-Qigong in the lineage of Dr. Eva Wong. She lives with her husband, Jan, in Barnet, where they own and run Blue Skies, a B&B.
Share this Program: