Garden Programs
The one-acre Karmê Chöling garden serves as a ground for learning, practice, work, and play. Its beauty and magic magnetizes visitors from around the world. Hundreds of different varieties, including vegetables, herbs, flowers, and mushrooms, are propagated each year by our dedicated garden staff. Produce from the garden supplies the Karmê Chöling kitchen during the growing season and beyond, and also supplies local households through Community Supported Agriculture (CSA) shares. A wide array of annual and perennial flowers attracts a plethora of pollinators and are used in Ikebana, the art of Japanese flower arranging.
April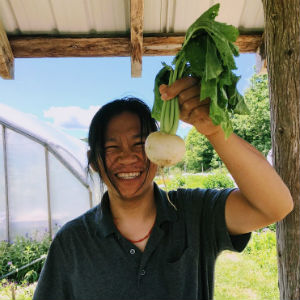 April 13 - November 7
Garden Apprentice Program
with Master Gardener Jan Enthoven
Entering its seventh year, the Garden Apprenticeship Program at Karme Choling is a unique six-month residential program of contemplative gardening through close mentorship with Master Gardener Jan Enthoven.